Shock and Strut Services in West Palm Beach, FL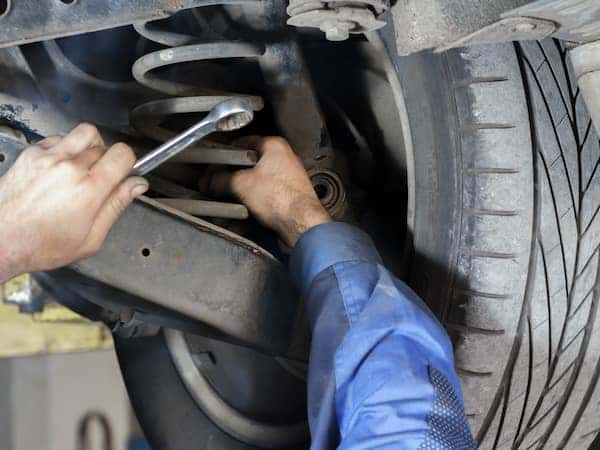 With proper shocks and struts, your Alfa Romeo delivers an exceptional driving experience. The shocks and struts help absorb impact resulting in stable handling. To ensure you continue getting the impeccable performance guaranteed by an Alfa Romeo, be sure to keep up with your car's maintenance. As your trusted service center in West Palm Beach, Arrigo Alfa Romeo is ready to help with all of your shock and strut maintenance needs.
Signs You Need Shock and Strut Service
The shocks and struts in your Alfa Romeo help provide a smooth ride. These parts play a vital role in the suspension system. When these components are not in pristine condition you may start to notice a decline in your ride quality. Be on the lookout for the following signs:
Bumpy ride: bouncing, shaking, or dipping while driving are a sign that the stability in your suspension is lacking.
Front end dips while braking: if the front of your vehicle goes down while braking, you may have an issue with your shocks and struts.
Swaying while turning: if your vehicle starts to sway or lean while taking turns, you may have a stability issue caused by your shocks and struts.
Uneven tire wear: if your vehicle is lacking stability, your tires will get uneven wear.
We recommend you follow a routine maintenance schedule to keep your Alfa Romeo in pristine condition. This includes shock and strut service around every 50,000 miles. If you start to notice any of the above symptoms, schedule a service appointment with Arrigo Alfa Romeo as soon as possible.
Schedule Service at Arrigo Alfa Romeo in West Palm Beach
Whether your Alfa Romeo is nearing a service interval or you have noticed a decline in performance, the service team at Arrigo Alfa Romeo will get you back into top-of-the-line performance. Be sure to check out our available service specials to get the best deals in West Palm Beach. With any questions do not hesitate to contact us online!